ALBUM – View my Bahawalpur, Princely State of India album
Fast Facts
Region: India Area
Group: Indian Feudatory States
Classification: Semi-autonomous state
Prior Regime: Bahawalpur
Key Dates:
1802 – Bahawalpur state founded in 1802 by Nawab Mohammad Bahawal Khan Abbasi
1833, Feb 22 – Bahawalpur came under British suzerainty
1947. Oct 7 – Bahawalpur joined the newly formed Dominion of Pakistan
1955, Oct 14 – Bahawalpur merged into the province of West Pakistan
Following Regime: Bahawalpur, Princely State of Pakistan
Scott Catalogue: (Pakistan, Bahawalpur) #O1-O16
Pick Catalogue: none
Currency: 1 Rupee = 16 Annas = 64 Piece = 192 Pie
History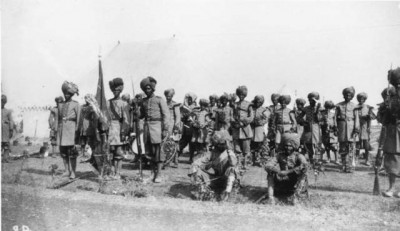 Bahawalpur was a princely state of India and is part of the Punjab states. The state was founded in 1802 by Nawab Mohammad Bahawal Khan Abbasi as the Durrani Empire (the last Afghan empire) began to break-up. His successor, Nawab Mohammad Bahawal Khan Abbasi III, signed the state's first "subsidiary alliance" with the British on 22 Feb 1833. This agreement guaranteed the internal rule of the Nawab, while the British had ultimate control over external relations. While essentially a protectorate, Bahalwapur as an Indian State was never officially a British possession, and maintained the status of a Feudatory State.
At the time of partition of India, all the princely states of the subcontinent were given a choice to join either Pakistan or India. The Nawab was wooed by India with various incentives, but in the end, Nawab Sadeq Mohammad Khan V signed an agreement on 5 Oct 1947 to become the first state to join Pakistan. The main factor was of course the shared Islamic beliefs (the majority in Bahawalpur State), and the close friendship the Nawab had with Quaid-i-Azam, the first leader of Pakistan.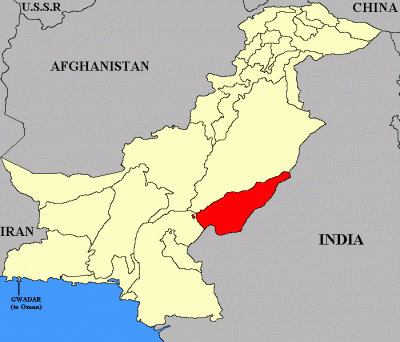 Nawab Sadeq Mohammad Khan V was very helpful and generous to the government of Pakistan. He gave seventy million rupees to the government and the salaries of all the government departments for one month drawn from the treasury of Bahawalpur state and he gifted his private property to the University of the Punjab, King Edward Medical College and the Mosque of Aitchison College in Lahore.
In 1953, the Nawab represented Pakistan at the installation of Faisal II of Iraq and at the coronation of Elizabeth II. In 1955, Nawab Sadiq Muhammad joined the province of West Pakistan, thus ending the offical role of the Nawab, although he received a year stipend and maintained the title of Nawab and protocol inside and outside Pakistan.
Stamps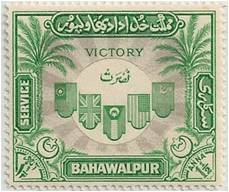 ALBUM
Until 1945, Bahawalpur used the postage stamps of British India, but the state began issuing official stamps on 1 Jan, 1945. The first set of stamps, inscribed in Urdu only, consisted of 6 beautiful pictorial scenes of Bahawalpur overprinted "sarkari" which means official. Later in 1945, three of the stamp designs issued were surcharged in black, and also had a black "sarkari" overprint. Before the partition, a total of 16 Official Stamps were issued in 1945 and 1946. There is also a set of 17 King George VI stamps if India overprinted BAHAWALPUR with a star and crescent, but the legitimacy of these stamps is disputed among experts.
After Bahawalpur decided to join the Dominion of Pakistan, it began issuing regular issue stamps on 1st December 1947.
All Bahawalpur stamps are of high quality, finely engraved, and quite beautiful, as it is known that the Nawab was a philatelist, and had a hand in designing the stamps. Bahawalpur stamps could only be used for delivery of mail within the state.
Banknotes
Bahawalpur used currency and Banknotes from British India.
Links
Bahawalpur from Wikipedia
Bahawalpur Stamp Catalogue from Pakistan Philately