ALBUM – View my Cochinchina album
Fast Facts
Region: Southeast Asia
Group: French Occupation / Colony
Classification: Colony
Prior Regime: xxx
Key Dates:
1858-59 – French conquered much of the southern area of Vietnam
1862, Apr 13 – Treaty of Sigon, Vietnamese kingdom cedes territories to France.
1864 – French colony of Cochin-China established
1867 – French conquered additional provences and added to the colony of Cochin-China.
1887, Oct 17 – Annam, Tonkin, Cochinchina were combined to form the Union of French Indochina.
Following Regime: French Indochina
Scott Catalogue: (Cochin China) #1-5
Pick Catalogue: (French Indochina) #1
Currency: 100 cents = 1 Dollar/1 Indochina Piastre
History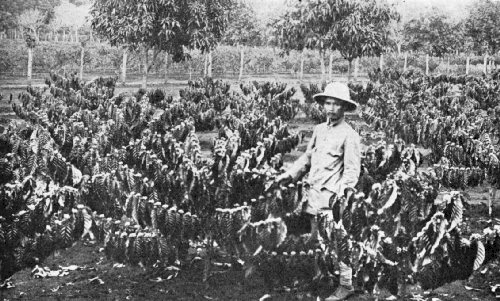 Cochin-China, the southern part of Vietnam, was unified under the Nguyễns, a single ruling clan in 1802. Over the next 50 years, Gia Long and his successors conquered more lands from Cambodia and even annexed Phnom Penh and surrounding territory. However, the Vietnamese were forced to relinquish these conquests in the latter part of the 1800s.
In the mid 1850's Napoleon III and the French government set their sights on the southern area of Vietnam for colonization. With the help of Spanish troops from the Philippines, the French launched sent troops into the southern part of Vietnam, and in September 1858, France occupied Đà Nẵng. On 18 February 1859, they conquered Saigon and three southern Vietnamese provinces: Biên Hòa, Gia Định and Dinh Tuong. Ultimately, the Vietnamese government was forced to cede those territories to France in June 1862.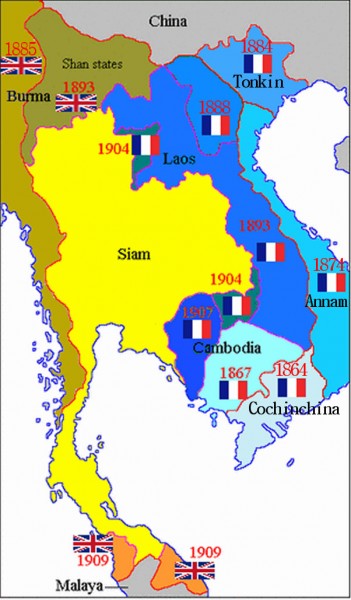 In 1864 all the French territories in southern Vietnam were declared to be the new French colony of Cochin-China. Additional conquests added the provinces of Châu Đốc, Ha Tien and Vĩnh Long to the French controlled territory in 1887.
From Cochin-China, the French continued their expansion north into Annam and Tonkin in 1883, ultimately completing their acquisition of all of the lands of present day Vietnam in 1885.
In Oct 1887, the French combined Cochin-China with Annam and Tonkin to form the Union of French Indochina. Laos and Cambodia were later included in the Indochina.
Stamps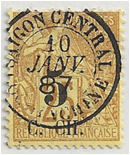 ALBUM
Two French Colony stamps (the 2c and 25c yellow on straw paper) were printed with a 5c in 1886 for use in Cochin-China. The 5c on 2c issue contained the overprint "C. CH.", while the 5c on 25c was issued with and without the "C. CH." overprint.
In 1887, an additional French Colony stamp (25c brown on rose) was issued with a 5c surcharged, but with a larger numeral 5. This stamp did not include the additional "C.CH." overprint.
The stamps were used until 1892, when they were replaced with those of French Indo-China.
In 1888, a fifth stamp, was surcharged 15c on half of a 30c French Colony stamp, but was never issued.
Banknotes
In 1875, a 5 dollar / 5 Paistre banknote was issued for use across French Controlled Indochina.
Links
Cochinchina from Wikipedia
The Cochinchina Campaign from Wikipedia
Cochin-China stamps from StampSelector
Cochin-China Stamps from BigBlue 1840-1940