ALBUM – view my Emirate of Cyrenaica album
TRANSITION CHART – Libya Area
Fast Facts
Region: North Africa
Group: Libya Area
Classification: Independent nation
Prior Regime: British Occupation of Cyrenaica
Key Dates:
1946, Oct – A Senussi Emir of Cyrenaica was recognized by Britain under British occupation.
1949, Mar 1 – The independent Emirate of Cyrenaica was proclaimed by the local leadership
1949, Jun 1 – The Emirate was recognized by the British
1949, Nov 21 – The UN General Assembly agreed that a unified Libya would become independent before 1 Jan 1952
1951, Dec 21 – Libya became the Kingdom of Libya under King Idris
Following Regime: Kingdom of Libya
Scott Catalogue: (Cyrenaica) 65-77
Pick Catalogue: none
History
For centuries, Libya was under the nominal control of the Ottoman Empire, historically separated into three major regions: Cyrenaica, Tripolitania and Fezzan. As the Ottoman Empire begin to collapse, European powers begin to compete for the various territories. In Libya, The Kingdom of Italy invaded the region on Sept 29, 1911, sparking the Italo-Turkish War. The war lasted Oct, 1912, with the defeat of the Ottomans. Initially the territory was known as Italian North Africa, but in 1922 it was split into two colonies, Italian Cyrenaica and Italian Tripolitania, run by separate Italian governors. On 1 Jan, 1934, the colonies of Tripolitania and Cyrenaica along with the Military Territory of Fezzan were combined to form the single Italian Colony of Libya.
With the outbreak of World War 2, North Africa was a major theater of operations. In March, 1941, German Afrika Korps commanded by Lieutenant General Erwin Rommel, launched an offensive into Cyrenaica essentially cutting off British troops at Tobruk. For the next two years, the battle for North Africa seesawed back in forth, until Jan 1943, when the Eighth Army, under the command of General Bernard Montgomery, with the aid of local Senussis led by Sayyid Muhammad Idris broke through the Axis lines causing German and Italian forces to retreat. By February, Axis troops had been driven out of Libya entirely.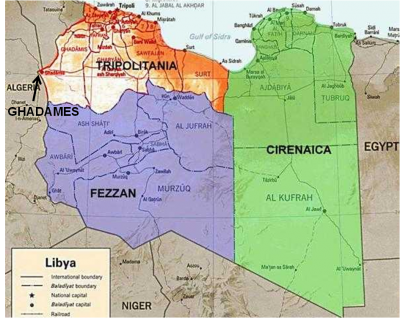 After the war, Libya was broken into three separate sections, with Cyrenaica and Tripolitania being administered by the British, and Fezzan and the town of Ghadames controlled by the French. As discussions for an ultimate Libyan independence were being discussed, the British supported Idris in the formation of an independent Emirate of Cyrenaica in 1949. Great Britain was the only major country to recognize the Emirate,
On 21 Nov 1949, the UN General Assembly passed a resolution stating that Libya (Cyrenaica, Tripolitania, and Fezzan) should become unified and independent before Jan 1, 1952. Idris represented Libya in the subsequent UN negotiations for independence. On 24 Dec 1951, Libya declared its independence as the United Kingdom of Libya, a constitutional and hereditary monarchy was formed under King Idris, Libya's only monarch. The Emirate became part of that kingdom.
Stamps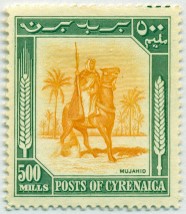 ALBUM
On Jan 16, 1950, the Emirate of Cyrenaica issued a set of stamps featuring a Senussi warrior on horseback carrying a rifle. Eight smaller stamps and four larger stamps were issued in denominations from 1 – 500 milles. The warrior is titled "Mujahid", literally means "inner-struggler" or one who struggles for Allah.
In addition, on Jul 1, 1950, the Emirate issued a set of 7 postage due stamps.
Banknotes
British Military currency was used during the time of the Emirate.
Links
The Cyrenaica Emirate from Wikipedia
Libya's Forgotten King from Aljazeera