ALBUM – view my Greek Occupation of North Epirus in WW1 album
Fast Facts
Region: Greece / Balkans
Group: Balkan countries
Classification: Military Occupation
Prior Regime: Autonomous Republic of North Epirus
Key Dates:
1914, Feb – Greeks withdraw from Northern Epirus after a 1 year occupation
1914, Feb – Revolution and independent North Epirus was declared
1914, Mar – Protocol of Corfu, autonomy of Epirus was agreed under Albanian sovereignty
1914, Oct 14 World War 1 begins and Greeks occupy Northern Epirus
1916, Jun – French troups occupy the district of Korce in Northern Epirus
1916, Aug 10 – Greek forces driven out of North Epirus by the Italian military
Following Regime: Italian occupation of North Epirus, French Occupation of Korce
Scott Catalogue: (Epirus) #N1-N32
Pick Catalogue: none
History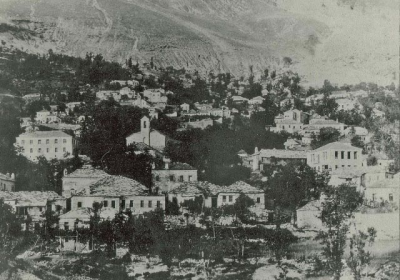 Epirus, taken from the Greek for "mainland" is a rough mountainous region located along the Ionian Sea in the border area of Greece and Albania. Under the rule of the Ottoman Empire for almost 500 years, the area primarily consisted of an ethnic Greek population.
During the First Balkan War (1912-1913), which pitted the Balkan League of Serbia, Greece, Montenegro and Bulgaria against the Ottoman Turks, the people of Chimarra (today Himarë) revolted and expelled the Ottoman forces in order to join Greece. For the balance of the war, Epirus was under Greek administration. Afterwards, the northern part of Epirus was awarded to a newly created Albanian state, and in early 1914, Greek troops withdrew from the region.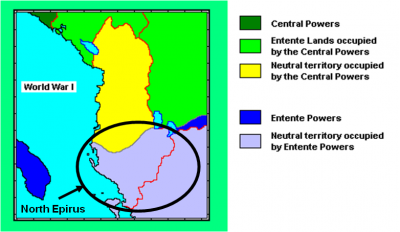 Unwilling to be a part of Albania, the people of Northern Epirus revolted in February, 1914, and a provisional government proclaimed the formation of the Republic of Northern Epirus. The revolutionaries eventually managed to gain full autonomy under a nominal Albanian sovereignty. The Protocol of Corfu was signed in May of 1914, officially recognizing the Autonomous Republic of North Epirus, and would allow for self government and recognition of the rights of the Greek population.
World War 1 broke out in July, 1914, and in September Albania collapsed into chaos. This caused the Greeks to send forces into Northern Epirus, to re-occupy the territory and the Autonomous Republic of Epirus, ceased to exist. The Greek army occupied the region from 14 Oct 1914 – 10 Aug 1916. Greece officially annexed Northern Epirus in March 1916, but was forced to revoke the annexation. Within a few months, the Greek army was driven out of North Epirus by Italian forces, while the French occupied Koritsa (Korce). At the end of the war, Northern Epirus was awarded to Greece, however following the Greco-Turkish war in 1924, and at the insistence of the Italian's, Northern Epirus again became part of Albania, where it remains today.
Stamps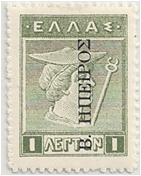 ALBUM
With the resumption of Greek control over Northern Epirus, an inital set of stamps were issued on 30 Nov, 1914. This set consisted of Greek "Occupational Issues" which were overprinted B. ΗΠΕΙΡΟΣ (N. Epirus) horizontally in black. Red overprints were also prepared but never issued.
Beginning in December, 1915, a second set of stamps were issued using Greek definitive stamps of 1911-1913, overprinted B. ΗΠΕΙΡΟΣ vertically, reading either up or down.
Banknotes
none
Links
Postage Stamps of North Epirus from Wikipedia
History of Epirus from Wikipedia