ALBUM – view my German New Guinea album
Fast Facts
Region: Australia / Pacific
Group: German Colonies in the Pacific
Classification: Colony (Germany)
Prior Regime: Indigenous people
Key Dates:
1884, Nov 3 – Established as a German Protectorate
1914, Sept 21 – German forces in the colony surrender to the Australians
1919, Jun – Becames a League of Nations Madate to Australia
Following Regime: Australian Occupation
Scott Catalogue: (German New Guinea) #1-23
Pick Catalogue: none
History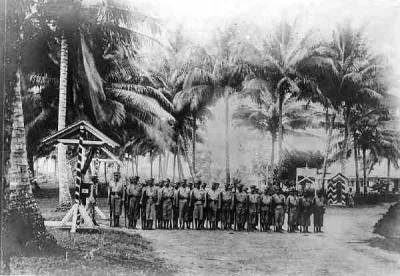 The Island of New Guinea, located north of Australia, is ethnographically part of what is known as Melanesia. Although European explorers were aware of New Guinea since the early part of the 16th century, colonization of the island didn't begin until the 1800′s. In 1828, the Dutch formally claimed the western half of the island, incorporating it into the Dutch East Indies. However the Dutch didn't really begin establishing government posts until 1898 and 1902.
In the late 1870s and early 1880s, various colonial societies were organized all over Germany to persuade Chancellor Bismarck to embark on a colonial policy.  On 24 April 1884, Bismarck ultimately changed his policy and annexations of territories would be protected by the German Empire and would  be managed through grants of charters to private companies.  On 3 November 1884, under the auspices of the Deutsche Neuguinea-Compagnie (New Guinea Company), the German flag was flown over Kaiser-Wilhelmsland, the Bismarck Archipelago and the German Solomon Islands.
With the exception of German Samoa, the German islands in the Western Pacific formed the "Imperial German Pacific Protectorates" which were  administered as part of German New Guinea and they included the German Solomon Islands (Buka, Bougainville and several smaller islands), the Carolines, Palau, the Marianas (except for Guam), the Marshall Islands and Nauru.  It was a protectorate from 1884 until 1914 when it fell to Australia following the outbreak of the First World War.
After the Treaty of Versailles of 1919, Germany lost all its colonial possessions, including German New Guinea. It became the Territory of New Guinea, a League of Nations Mandate Territory under Australian administration until 1949 (interrupted by Japanese occupation WW2) when it was merged with the Australian territory of Papua to become the Territory of Papua and New Guinea.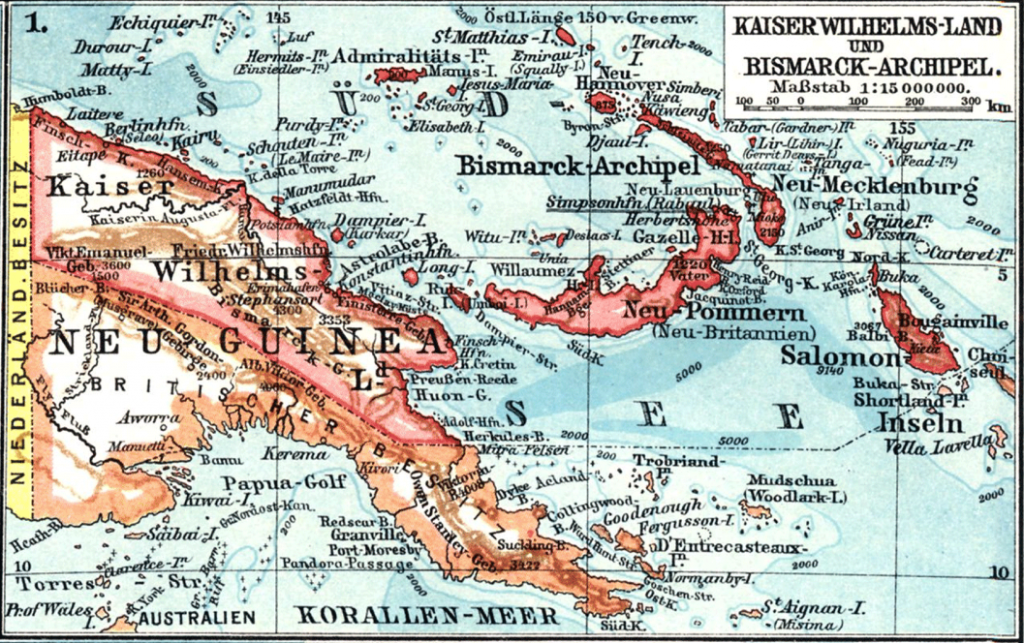 Stamps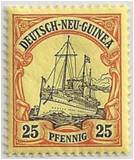 ALBUM
The first postage stamps of the colony were issued in 1897, as overprints reading "Deutsch – / Neu-Guinea" on the contemporary stamps of Germany. In 1901, the Yacht issue included stamps for the colony, inscribed "DEUTSCH-NEU-GUINEA." The 5pf, 10pf, and 5m values were reprinted in 1914 on watermarked paper and inscribed "DEUTSCH-NEUGUINEA," but these did not reach the colony before it was occupied and were never put in use, nor was the reprint of the 3pf value made in 1919. 
Banknotes
German Reich Marks were used, however during the Australian occupation in WW1 occupational notes were used.
Links
German New Guinea at Wikipedia
German New Guinea from Totally History
Map at Sandafayre On Line Atlas
Stamps and Postal Service of German New Guinea (1910)