ALBUM – view my Hatay State album
TRANSITION CHART – Syria / Lebanon Area
Fast Facts
Region: Middle East / Central Asia
Group: Syria Area
Classification: Semi-Autonomious State
Prior Regime: Sanjak of Alexandretta
Key Dates:
1938, Sept 7 – Hatay State established
1939, Jun 29 – Parliament votes to join Turkey
1939, Jul 23 – Fully Annexed into the Turkish Republic
Following Regime: Republic of Turkey
Scott Catalogue: (Hatay) #1-37, J1-J13
Pick Catalogue: none
History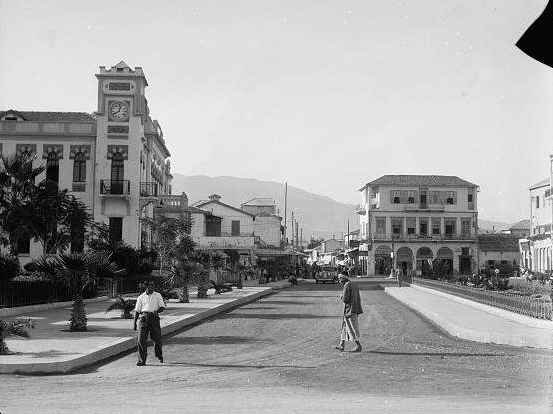 Hatay State was a short lived republic located on the Eastern Mediterranean coast on the border of Turkey and Syria. For centuries, the region was a part of the Ottoman Empire known as the Sanjak of Alexandretta (sanjak being an Ottoman administrative region). Occupied by the French in World War 1, the territory, along with Syria, became part of the League of Nations Mandate to France following the defeat of the Ottomans. The Sanjak of Alexandretta was an autonomous region from 1921 to 1923 until it became part of the Sanjak of Alleppo, and in 1925 became a part of Syria, although with a special administrative status. The inclusion of the sanjak in the French Mandate was never accepted by Mustafa Kemal Atatürk, the leader of the newly formed Turkish Republic, who strongly felt that Alexandretta was a sovereign and historical part of Turkey. Atatürk aimed to re-unite the region with Turkey upon the expiration of the mandate in 1935, and internal Turkish politics worked towards this goal.
As threats of a second world war loomed across Europe, the Sanjak began separating from Syria in November 1937, looking more to France and Turkey for military defense. On September 7th, 1938, with a newly adopted constitution, Hatay Devleti (Hatay State) declared independence, and Turkish was declared as the national language, with French as a secondary language. Within months, Hatay had adopted all Turkish laws, made the Turkish lira as the official currency and even embraced a flag designed by Atatürk himself. This autonomy was short lived because on June 29, 1939, the Parliament voted to dissolve the state of Hatay and join the Turkish Republic. This process was finalized on July 23rd, when Hatay was officially added as a Turkish province. This was not done without controversy, as Syria disputed France's right to cede the area to Turkey, and maintains to this day a claim to the territory.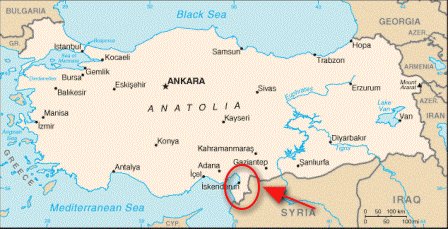 Stamps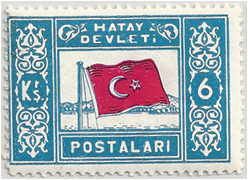 ALBUM
The first postage stamps of the new republic issued early in 1939 were stamps of Turkey overprinted "Hatay Devleti" and surcharged with new denominations. Both regular issues and postage due stamps were sold. Shortly thereafter, Hatay authorities produced stamps of original design. Regular issue stamps featured four different designs in 13 different denominations: a Map of Hatay, the Lions of Antioch (a beautiful pair of lion carvings from the ancient Hittites), the Flag of Hatay, and the Hatay post office building. A series of 4 postage due stamps with a depiction of the castle at Antioch was also issued. These stamps were not used for very long, since on June 23rd, 1939, the Parliament of Hatay, approved the annexation of Hatay into Turkey. To commemorate this decision, the Hatay stamps were overprinted "T.C. ilhak tarihi 30-6-1939".
Banknotes
No specfic banknotes were used for Hatay. Syrian Pounds were used until the Turkish Lira was officially adoped by Hatay on 13 March, 1939
Links
Stamps of Hatay from Big Blue 1840-1940 Blogspot
Map of Hatay State