ALBUM – view my Ionian Islands, British Protectorate album
TRANSITION CHART for the Ionian Islands
Fast Facts
Region: Germany / Aegean / Ionian Islands
Group: Ionian Islands
Classification: Colony (British)
Prior Regime: France
Key Dates:
1809, Oct 2 – British capture Cephalonia, Kythera and Zante from the French
1814 – British Capture Corfu from the French
1815 – Treaty of Paris create the United States of the Ionion Islands under British Protection
1864. May 2 – British transfers Islands to the Kingdom of Greece
Following Regime: Kingdom of Greece
Scott Catalogue: (Ionian Islands) #1-3
Pick Catalogue: (Greece) #s110-s139
History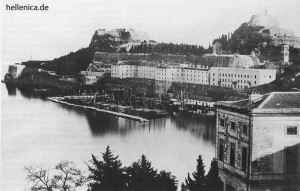 The Ionian Islands are a group of seven islands consisting of Corfu, Paxos, Lefkas, Cephalonia, Ithaca, Zante and Kythera. On October 2nd, 1809, the British defeated the French fleet in Zakynthos capturing Kefallonia, Kythera and Zakynthos, and took later Lefkada in 1810. The French held out in Kerkyra until 1814. The Treaty of Paris in 1815 turned the islands into the "United States of the Ionian Islands" under British protection. The British greatly improved the islands' roads, communications, and introduced modern education and justice systems.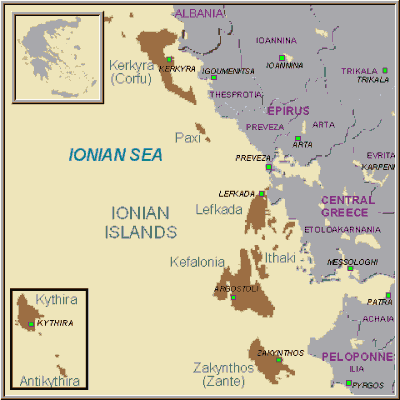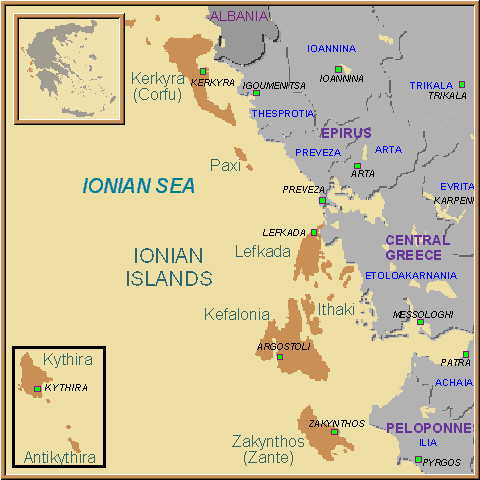 When Greece became independent in 1830, the islanders began to press for union with Greece, however the British government resisted the recommendation since, like the Venetians, they considered the islands a strategic naval base in the region. Also, Great Britain regarded the German-born king of Greece, King Otto, as unfriendly to Britain.      After Otto was deposed in 1862 and a pro-British king, George I, was installed, the Britain decided to transfer the islands to Greece, as a gesture of support, intending to bolster the new king's popularity. On May 2, 1864, the British departed and the islands and the islands became three provinces of the Kingdom of Greece, although Britain retained the right to use the port of Corfu.
Stamps

ALBUM
A set of three stamps was issued on May 15, 1859. Printed by Perkins, Bacon & Co. of London and inscribed ΙΟΝΙΚΟΝ ΚΡΑΤΟΣ (Ionian State), they depicted a profile of Queen Victoria. All were imperforate and bore no face value, which was indicated by their; orange (½ penny), blue (1 penny) and lake (2 pence). These stamps became invalid after the Ionian Islands were ceded to Greece in 1864
Banknotes
In addition to the use of British banknotes, in the 1840's a Greek private bank: The Ionian Bank, with branches on Corfu,Cephalonia and Zante issued banknotes in colonata, shillings and pounds.
Links
Map from Sandafayre On Line Atlas
Ionian Islands:  Off the Wall (from Stamp Magazine)