ALBUM – view my Lithuanian Occupation of Klaipėda album
TRANSITION CHART for the Baltics
Fast Facts
Region: Baltics
Group: Baltic Nations
Classification: League of Nations Administration (France)
Prior Regime: French Administration of Memel
Key Dates:
1919, Jun – Treaty of Versailles
1920 – France assumed administration of Memel
1923, Jan 9 – Klaipėda Revolt
1923, Jan 19 – Memel annexed by Lithuania and becomes Klaipėda
1925, Aug 25 – Klaipėda annexation recognized by international community
Following Regime: Republic of Lithuania
Scott Catalogue: (Memel) #N1-N114
Pick Catalogue: None, currency of Lithuania was used
History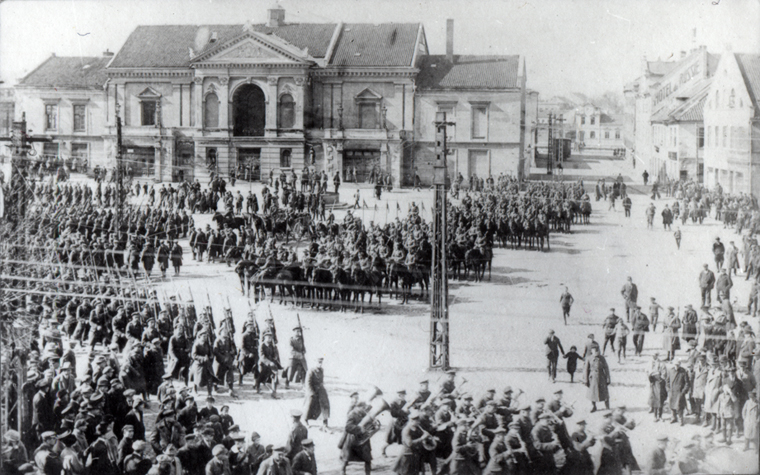 Memel (Klaipeda), was an important trade region on the Baltic Sea lying on the eastern boundaries of Prussia. The primary port was a key shipping and trade center, and functioned as a strategic gateway into the large Curonian Lagoon. Memel was included in the German Empire at its formation in 1871, however after the defeat of the Germans in World War 1 it was separated from Germany and assigned as the Territoire de Memel under administration of the Conference of Ambassador (later becoming part of the League of Nations in 1925.)
After the war, the Baltic nations, including Lithuania were granted independence from Russia. The newly formed Republic, desired Memel (Klaipeda in Lithuanian), as it was the only viable port on the Baltic for the region. Not happy that the Conference of Ambassador was leaning towards turning Memel into a Free City (like Danzig), Lithuania began sending activists into the towns and villages of the region to stir up support for Lithuanian rule. While the city of Memel was primarily German, the countryside had a significant Lithuanian population. Finally, just prior to an important meeting to decide the future of Memel, Lithuanian militia dressed as civilians, entered Memel and instigated the Klaipeda Revolt on Jan 10th, 1923.
The allied nations made several threats and demands for withdrawal of Lithuanian troops, however they were unwilling to back them militarily fearing that the USSR would support the Lithuanians, threatening another war. Finally, realizing that the occupation was a fait accompli, the Conference of Ambassadors recognized the Lithuanian occupation on Feb, 16, 1923. The two parties agreed that Memel, renamed Klaipeda by the Lithuanians, could become an autonomous region within Lithuania. Lithuania was required to allow freedom of transit between the Curonian Lagoon and the Baltic, recognize Lithuanian and German as official languages and allow freedom of religion as Lithuania was Catholic and the German population was Lutheran.
On May 8, 1924, the Conference and Lithuania finalized the agreement in the Klaipeda Convention. The Agreement took full effect on August 25, 1925, when it was ratified by the League of Nations.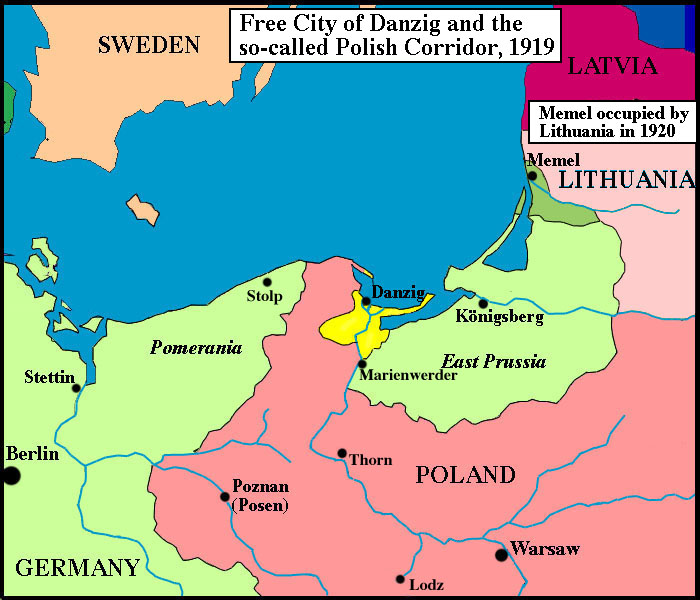 Stamps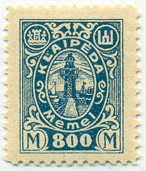 ALBUM
During the occupation period, Lithuania issued about 120 different stamps in the span of less than a year (Feb-Dec 1923). The first stamps were issued early Feb, 1923 when Lithuania took un-issued Official stamps and overprinted them Klaipeda // (Memel) and surcharged them in German currency.
Beginning on Feb 28, 1923 (shortly after the Occupation was recognized by the Conference of Ambassadors) Lithuania issued its first printed stamps for Klaipeda. The set was of a design similar to the Lithuanian Official stamps featuring the Vytis, the national symbol of Lithuania. On Apr 12, 1923, Lithuanians released an additional 13 issue set of stamps with three different designs, a ship, an anchor and a lighthouse. All of these stamps were issued in Marks, the currency of Germany.
Beginning on Apr 16, 1923, Lithuania changed the official monetary units in Klaipeda to Lithuanian litas. (100 centu = 1 litas). Stamps began to be surcharged appropriately. Up until the end of 1923, postal authorities continued to surcharge Klaipeda stamps into Lithuanian currency. There were more than 60 different stamps issued, however the different plate varieties, overprint types, and errors run into the hundreds. All Klaipeda stamps were valid for use until Aug, 8, 1925.
Banknotes
None, Lithuanian currency was used
Links
Klaipeda Revolt from Wikipeda
Military operation in Klaipėda, 1923 – Lithuania's historical victory
Memel, Klaipeda Stamps
Memel stamps at the Lithuanian Philately Blog