ALBUM – View my Lemnos, Greek occupation album
Fast Facts
Region: Aegean Sea
Group: Greek Occupations in the Aegean Sea
Classification: Military Occupation
Prior Regime: Ottoman Empire
Key Dates:
1912, Oct – Greece invades and occupies Lemnos
1915 – 1918 – Allies use Lemnos as a military base during World War 1
1923, July 24 – Treaty of Lausanne confirms Greek sovereignty of Lemnos, Samothrace, Mytelene, Chios, Samos, and Nikaria
Following Regime: The Kingdom of Greece
Scott Catalogue: (Greece, Occupation issues) #N17-N52a
Pick Catalogue: none
Currency: 100 lepta = 1 drachma
History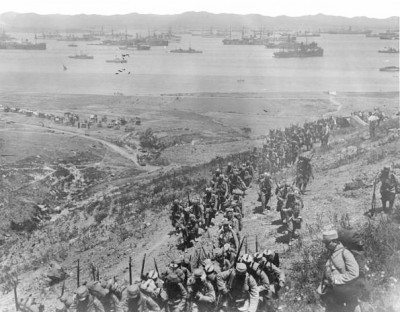 Lemnos (Greek: Λήμνος) is an island in the northern part of the Aegean Sea and was essentially under Ottoman Control throughout the 15-19th centuries. It was during the first Balkan war, where the Balkan League (Serbia, Greece, Montenegro and Bulgaria) fought against the Ottoman Turks, that Lemnos was captured by the Greeks. On 8 October 1912, the Greek Army invaded and took control of Lemnos without any casualties from the occupying Turkish garrison, who were returned to Anatolia.
Moudros Bay became a forward anchorage for the Greek fleet, which enabled it to keep watch on the Dardanelles and prevent a foray by the Ottoman Navy into the Aegean. On Jan 18th, 1913, the Turks attempted to retake the island, however, the Greeks found out the Turks were approaching, and defeated them in what is known as the Battle of Lemnos. With this, the Ottomans were prevented from supplying and reinforcing their land forces in Macedonia by sea, a critical factor in the success of the Balkan League in the war.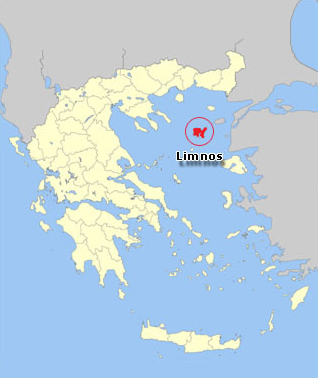 During World War I, the Allies in early 1915 used the Lemnos as a base of operation to prepare an attack upon the Dardanelles Straits, some 50 km away. Ultimately the campaign was called off after the defeat at Gallipoli. However Lemnos remained an Allied base for the blockade of the Dardanelles during the rest of the war.
In late October 1918, the armistice between the Ottoman Empire and the Allies was signed at Moudros on Lemnos. The Greeks officially declared Lemnos part of Greece in 1920, and this was officially recognized by the international community with the July 24, 1923 signing of the Treaty of Lausanne, which confirmed Greek sovereignty of Lemnos, Samothrace, Mytelene, Chios, Samos, and Nikaria.
One point it interest, after the Red Army defeated the Kuban Cossacks in the Russian Civil War in 1920, some 18,000 Kuban Cossacks fled to Lemnos to escape the Bolsheviks. Lemnos was used as an evacuation point where many died of starvation and disease, and most left the island after a year.
Stamps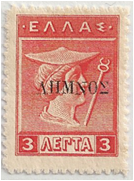 ALBUM
On the capture of Lemnos in October of 1912 by the Greek army, the Greek government overprinted a series of Greek definitives with "ΛΗΜΝΟΣ" (LEMNOS) in black or red. One stamp was issued in 1913 with the additional overprint "ΕΛΛΗΝΙΚΗ ΔΙΟIΚΗΣΙΣ" (Hellenic Administration), which was the same overprint used in the New Territories (New Greece).
The stamps were used in 1912 and 1913, until regular Greek issues were authorized for use.
Banknotes
none
Links