ALBUM – View my Russian Offices in Rizeh Album
Fast Facts
Region: Ottoman Area
Group: Post Offices in the Ottoman Empire
Classification: Foreign Post Offices
Prior Regime:
Key Dates:
1774 – Treaty of Küçük Kaynarca provided for a regular mail service, for which a consular post office was established in Constantinople.
1909 – Russia issued stamps overprinted with the names of cities (including Rizeh)
1914, Sept – Russian Post offices closed
Following Regime:
Scott Catalogue: (Russia, Offices in the Turkish Empire) #191-199
Pick Catalogue: none
History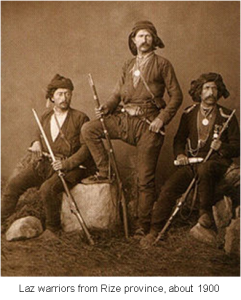 Prior to World War 1, various powers, including Russia maintained post offices in the Ottoman Empire which ended with the signing of the Treaty of Lausanne in 1923. The foreign post offices were closed on 27 October, 1923. Russian post offices operated in various cities of the Ottoman Empire from the late 18th century until the Russian offices closed in September 1914.
Rizeh (today Rize), is a Turkish port on the Black Sea, which contained one of the Russian foreign post offices in the Ottoman Empire. Rize was a part of the Empire of Trebizond, one of the successor states of the Byzantine Empire until the Ottoman army, led by Sultan Mehmet II conquered Trabzon in 1461 and the city of Rize in 1470, the last of of the former Byzantine Empire to fall.
Due to its strategic location on the Black Sea, Rize was a place with signficant Russian influence and activity. In fact, the area a site of many battles between Ottoman and Russian armies during Caucasus Campaign of World War I and was occupied by the Russian forces in 1916-1918. It was returned to the Ottomans with the Treaty of Brest-Litovsk in 1918.
Stamps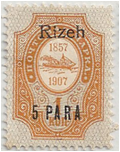 In 1856, the Russian Steam Navigation and Trading Company (Russkoe Obschchestvo Parokhodstva i Torgovli or РОПиТ, ROPiT) took over postal operations. It handled mail service between the various offices, and funneled mail to the rest of Russia through Odessa. The ROPiT offices received a status equivalent to regular Russian post offices in 1863.
In 1909, a 50th-anniversary commemorative issue was produced by substituting the ROPiT sailing ship logo in the place of the imperial eagle. 1909 also saw the issuance of stamps overprinted with the names of cities.
Banknotes
none
Links
Rize Province from Wikipedi
Collection from David Feldman, Russian Offices in the Ottoman Empire
Map from Sandafayre On Line Atlas