ALBUM – view my Southern Nigeria Protectorate album
TRANSITION CHART for the British Nigeria area
Fast Facts
Region: West Africa
Group: British Nigeria
Classification: Colony (Britain)
Prior Regime: Niger Coast Protectorate
Key Dates:
1900, Jan 1 – Southern Nigeria formed by joining Niger Coast Prot. with territories from the Royal Niger Company
1906 – Lagos became part of Southern Nigeria
1914, Jan 1 – Southern Nigeria and Northern Nigeria were combined to form the colony of Nigeria
Following Regime: Nigeria Colony
Scott Catalogue: (Southern Nigeria) #1-56
Pick Catalogue: none
History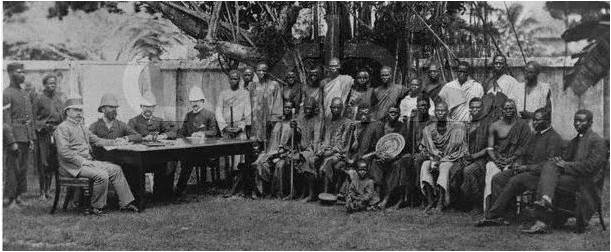 British colonization in western Africa didn't really begin until after the British Parliament prohibited British subjects from participating in the slave trade, and in 1833 abolishing slavery throughout the British Empire (with the exceptions "of the Territories in the Possession of the East India Company," the "Island of Ceylon," and "the Island of Saint Helena", which were eliminated in 1843). With the collapse of the slave trade, and the decline of the influence of the African Oyo Empire which supported it, interest in the area waned.
British influence in the Nigeria area increased gradually over the 19th century, but they did not effectively occupy the area until 1885, when competitive pressure increased from France and Germany. The Royal Niger Company was formed in 1879 as the United African Company; renamed to National African Company in 1881 and to Royal Niger Company in 1886. It was charted by the British government to develop the Niger basin.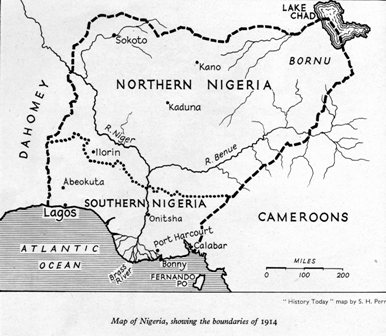 In parallel, the Niger Coast Protectorate was a British protectorate in the Oil Rivers area of present-day Nigeria, originally established as the Oil Rivers Protectorate in 1885 and expanded and renamed the Niger Coast Protectorate on 12 May 1893.
On 1 January, 1900, the chartered territories of the Royal Niger Company merged with the Niger Coast Protectorate to form the Southern Nigeria Protectorate. The colony around Lagos was added in 1906, and the territory was officially renamed the Colony and Protectorate of Southern Nigeria. As consolidation and British influence increased, Southern Nigeria was joined with Northern Nigeria Protectorate to form the single colony of Nigeria in 1914. The unification was done for economic reasons rather than political — Northern Nigeria Protectorate had a budget deficit; and the colonial administration sought to use the budget surpluses in Southern Nigeria to offset this deficit.
Stamps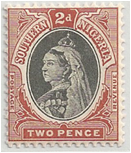 ALBUM
Southern Nigeria Protectorate initially used postage stamps from the Niger Coast Protectorate until a set of nine values, depicting an image of Queen Victoria, were issued in March 1901. In 1903, new stamps, with the profile of King Edward VII were issued. The design, which was used throughout the entire realm, continued to be used throughout his reign, although there were changes in color, watermark and paper. In 1912, the design was replaced by a set of 12 stamps with a portrait of King George V.
Southern Nigeria stamps were replaced by stamps of Nigeria Colony in 1914.
Banknotes
none
Links
Map from Sandafayre On Line Atlas
Philatelic Database on the Stamps of Southern Nigeria