ALBUM – view my Ottoman Occupation of Thessaly album
Fast Facts
Region: Ottoman Empire
Group: Occupations in the Ottoman Empire
Classification: Military Occupation (Ottoman)
Prior Regime: Kingdom of Greece
Key Dates:
1897, Apr 12 – Ottoman Empire forces defeat Greek army and march to occupy the Thessaly region.
1897, May 20 – Ceasefire agreed in Thessaly
1897, Sept – Peace agreed between Greece and the Ottomans
1897, Dec 4 – Treaty of Constantinople signed
1898, May – Ottoman Army leaves Thessaly
Following Regime: Kingdom of Greece
Scott Catalogue: (Turkey, Military Stamps) #M1-M5
Pick Catalogue: none
History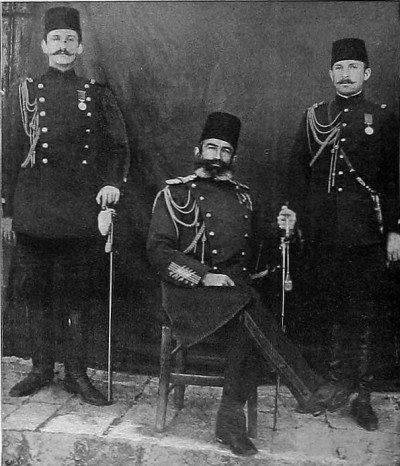 Thessaly was an important battleground territory during the Greco-Turkish War of 1897, also called the Thirty Days' War. The war began in Crete, where the Greek population was still under Ottoman control. In late 1896 a rebellion broke out on Crete, and on 21 January 21, 1897 a Greek army landed in Crete to "liberate" the island from Ottoman control and unite it with Greece. However, European powers (Britain, Russia, France, Italy ,Germany and Austria-Hungary), intervened, and proclaimed Crete an international protectorate.
The Greek army retreated to the mainland, where it next attempted to advance northwards into Thessaly and Epirus.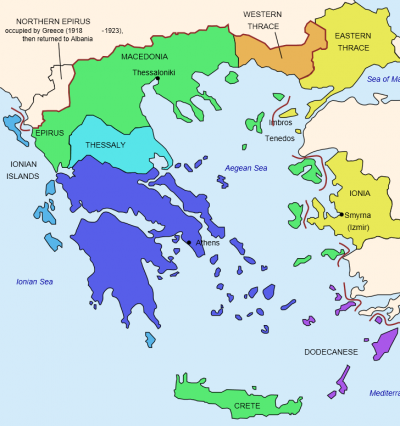 The Greek army, consisting of two divisions, was unable to capitalize on its early incursions across the Macedonia – Thessaly border and suffered defeats in several battles around the mountain passes between Macedonia and Thessaly south of Mount Olympus. The Greek front collapsed on 12 April 1897, and the Greek forces began to retreat into the Thessalonian plain. Within two weeks and with little resistance, the Turkish army controlled all of Thessaly.
Greece appealed to European powers and peace was agreed by both sides in Sept 1897. The final agreement, the Treaty of Constantinople, was signed on 4 Dec. 1897 and Thessaly would be largely returned to Greece with changes in the pre-war border in which portions of northern Thessaly would be ceded to the Ottoman Empire. Additionally Greece was forced to pay heavy reparations, which put high strains on the Greek government requiring them to submit to international supervision.
The Ottoman troops withdrew from Thessaly in May of 1898.
Stamps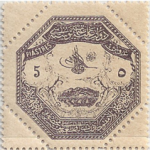 ALBUM
During their brief occupation, five stamps were issued for Turkish occupation forces in Thessaly on 16 April, 1898.
The stamps were octagonal and were perforated on all eight sides. The common design featured the toughra of the Sultan and, in the lower part of the central vignette, a view of the railway bridge at Larisa over the river Pinios. 300,000 stamps in the series were printed and the last known date of usage is 9 June 1898.
After the Ottoman army withdrew from Thessaly, the remainders of these stamps were sold to two stamp dealers in Paris and Vienna.
Banknotes
none
Links
Greco-Turkish War from Wikipedia
Greco Turkish War – Foundation of the Hellenic World
The Hellenic Ottoman War of 1897