ALBUM – View my Italian Occupation of the Dodecanese Islands Album
Fast Facts
Region: Aegean / Ionian Islands
Group: Italian Occupations in the Aegean Sea
Classification: Military Occupation
Prior Regime: The Ottoman Empire
Key Dates:
1912, May – Invasion by Italy
1912, Oct – Treaty of Ouchy, agreeing return to Ottomans, which was never implemented
1921, Jan – Castellorizo aquired from the French
1923, Jul 24 – Dodecanese Islands annexed by Italy
Following Regime: Italian Colony of the Dodecanese Islands
Scott Catalogue: (Italy, Aegean Islands) #1-2, Calchi 1-11, Calino 1-11, Caso 1-11, Coo 1-11, Lero 1-11, Lisso 1-11, Nisiro 1-11, Patmos 1-11, Piscopi 1-11, Rhodes 1-14, Scarpanto 1-11, Simi 1-11, Stampalia 1-11
Pick Catalogue: none
History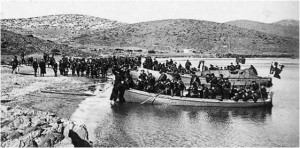 The Italo-Turkish was fought between the Ottoman Empire and the Kingdom of Italy from September 29, 1911 to October 18, 1912. The initial cause of the War was the Italians attempt to seize Libya from the waning Ottoman Empire.
By the end of the war, Italy had taken control of the Ottoman provinces of Tripolitania, Fezzan, and Cyrenaica, later becoming Libya.
During the conflict, Italian forces also attacked and occupied the Dodecanese Islands in the Aegean Sea. Italy had agreed to return the Dodecanese Islands to the Ottoman Empire according to the Treaty of Ouchy in 1912 (Ouchy Castle in Lausanne, Switzerland.) However, the vagueness of the text allowed a provisional Italian administration of the islands, and Turkey eventually renounced all claims on these islands in Article 15 of the Treaty of Lausanne in 1923. The Dodecanese were formally annexed by Fascist Italy, as the Possedimenti Italiani dell'Egeo.
Although there were 13 islands occupied by the Italians (12 plus Rhodes), it was latter expanded to 14 when Italy acquired Castellorizo from the French in Jan 1921. The name "Dodecanese" remained unchanged.
Stamps

ALBUM
A decree was issued by the Commissioner for Civilian Affairs of the occupying forces on 10 Sept, 1912 authorizing the overprinting of two Italian definitive stamps (25c and 50c) with the inscription "EGEO". On 1 Dec, 1912, a set of seven Italian stamps overprinted with the name of each individual island was issued for each of the 13 Aegean Islands occupied by Italian forces. Regardless of the overprint, all these new stamps were valid for use throughout the Dodecanese. Between 1912 and 1924 these stamps were used concurrently with Italian stamps.
Banknotes
none
Links
Italian Aegean – Wikipedia
Italo-Turkish War at the History Guy