ALBUM – view my Fezzan-Ghadames album
TRANSITION CHART – Libya Area
Fast Facts
Region: North Africa
Group: Libya Area
Classification: Military Occupation (French)
Prior Regime: Italian Occupation of Libya
Key Dates:
1943, Jan 18 – French assume control in Fezzan-Ghadames and establish Military Authority
1943, Feb – Axies forces driven out of Libya
1949 – Fezzan-Ghadames separated into occupied territories
1949, Nov 21 – UN General Assembly resolution passed for Libya's independence.
1951, Dec 24 – United Kingdom of Libya formed, and Fezzan and Ghadames became a part of the new kingdom
Following Regime: Separate Military Authorities of Fezzan and Ghadames
Scott Catalogue: (Libya, Fezzan-Ghadames) 1N1-1N15
Pick Catalogue: (Libya) #M9-M11
Currency: 100 centimes = 1 franc
History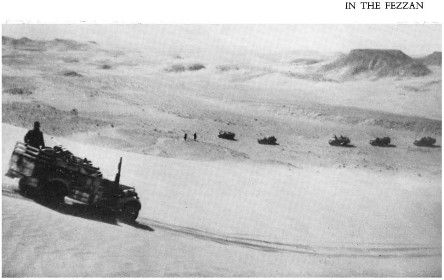 Fezzan is the south-western region of Libya, and it is mostly rugged desert, broken up by mountains dry river beds (wadis), with scattered oasis and ancient towns and villages. Ghadames is an oasis town in the west of Libya, near the borders of Algeria and Tunisia. Fezzan and Ghadames were governed by single French military authority until they were separated in 1949.
For centuries, Libya was under the nominal control of the Ottoman Empire, and were historically separated into three major regions: Cyrenaica, Tripolitania and Fezzan. As the Ottoman Empire begin to collapse, European powers begin to compete for the various territories. For Libya, Turkish forces were driven out of the area during the Italo-Turkish War fought between the Ottoman Empire and the Kingdom of Italy from 29 Sept, 1911 – 18 Oct, 1912. Initially the territory was known as Italian North Africa, but in 1922 it was split into two colonies, Italian Cyrenaica and Italian Tripolitania, run by Italian governors. On 1 Jan, 1934, the colonies of Tripolitania and Cyrenaica along with the Military Territory of Fezzan were combined to form the single Italian Colony of Libya.
With the outbreak of World War 2, North Africa was a major theater of operations. Italian forces were defeated rather early in the war in a failed attempt to invade Egypt. they surrendered to the British in Feb 1941, creating some 150,000 prisoners of war. However, in March, 1941, German Afrika Korps commanded by Lieutenant General Erwin Rommel, launched an offensive into Cyrenaica essentially cutting off British troops at Tobruk. For the next two years, the battle for North Africa seesawed back in forth, until Jan 1943, when the Eighth Army, under the command of General Bernard Montgomery, broke through the Axis lines causing German and Italian forces to retreat. By February, Axis troops had been driven out of Libya entirely.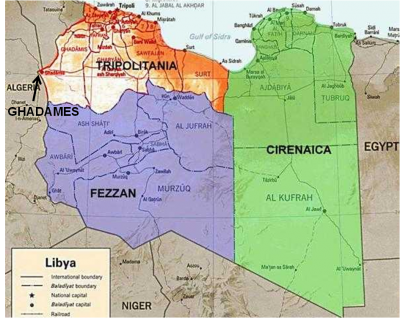 Libya was broken into three separate sections, with Cyrenaica and Tripolitania being administered by the British, and Fezzan and the town of Ghadames to be administered by the French.
Free French troops occupied Murzuk, a chief town of Fezzan, on 16 Jan 1943, but decided to administer Fezzan with a staff stationed in Sabha. But French administration was largely exercised through Fezzan notables of the family of Sayf an Nasr. This obviously caused issues with some of the other tribes in the area. (as a note Muammar Gaddafi was of the Sayf an Nasr tribe). At the lower echelons, French troop commanders acted in both military and civil capacities according to customary French practice in the Algerian Sahara. In 1949, Fezzan and Ghadames seemed to be separated administratively by the French, (although I cannot find clear documentation), and separate postage stamps were issued.
On 21 Nov 1949, the UN General Assembly passed a resolution stating that Libya should become independent before 1 Jan 1952. Idris represented Libya in the subsequent UN negotiations. On 24 Dec 1951, Libya declared its independence as the United Kingdom of Libya, a constitutional and hereditary monarchy was formed under King Idris, Libya's only monarch.
Stamps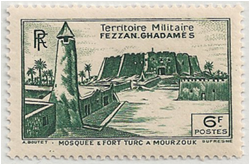 ALBUM
In 1943, Stamps of Italy and Libya were overprinted ""FEZZAN Occupation Francaise" and "R. F. FEZZAN" for use in the region when it was occupied by General Leclerc.
In 1946, a series of 15 stamps were issued, and inscribed "Territoire Militaire du FEZZAN-GHADAMES". Within the series, three separate pictorial designs were issued. The 10c, 50c, 1fr, 1.5fr, 2fr issues depicted the ancient Fort at Sebah, the 2.5fr, 3fr, 5fr, 6fr and 10fr issues featured the Mosque and Fort Turc Murzuch, and the 15fr, 20fr, 25fr, 40fr and 50fr stamps contained a map of Fezzan-Ghadames along with a solder and a Camel.
In 1949, these stamps were replaced with separate issues for Fezzan and Ghadames.
Banknotes
In French occupied Libya, occupational forces overprinted 5fr, 25fr and 100fr Banque De l'Afrique Occidentale banknotes with "R.F. FEZZAN." These bills were used from 1943 – 1951.
Links