ALBUM – view my German Occupation of Belgium – WW1 Album
Fast Facts
Region: Western Europe
Group: Occupations in Western Europe – ww1
Classification: Military Occupation
Prior Regime: Belgium
Key Dates:
1914, Aug 4 – Germans Invade Belgium
1914, Sept 6-12 – Battle of the Marne
1917, Nov – Flanders secedes from Belgium
1918, Nov 11 – Armistice signed, Germany withdraws from Belgium
Following Regime: Belgium
Scott Catalogue: (Belgium, Issued under German Occupation) #N1-N25
Pick Catalogue: (Belgium) #86-91
History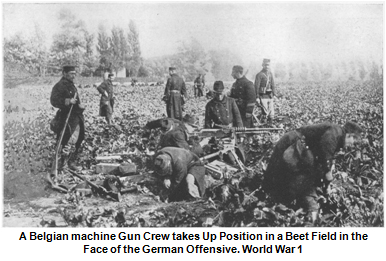 Following the outbreak of World War I in 1914, the German Army opened the Western Front by first invading Luxembourg and Belgium, then gaining military control of important industrial regions in France. Since Belgium and Luxemborg and virtually no standing army, the advance was swift and decisive. The tide of the advance was dramatically halted at the Battle of the Marne. Both sides dug in along a meandering line of fortified trenches, stretching from the North Sea to the Swiss frontier with France. This line remained essentially unchanged for most of the war.
Although the German advance was halted, they had overrun most of Belgium, which remained in German control for most of the War. German authorities governed harshly, confiscating food and property for troops, killing civilians who resisted, and forcing populous to work for the German war effort. These repressive measures were used effectively by the British to sway public opinion in the US, and help persuade the Americans to enter the war.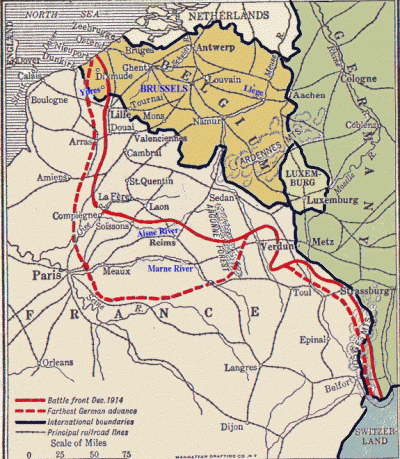 Flanders, controlled by a radical minority who supported the Germans who supported an independant Flemish state, seceded from Belgium in November 1917. This was in spite that a great majority of the Flemish remained loyal to King Albert and Belgium.
In 1918, after a failed German offensive, Allied armies supported by the growing American Expeditionary Force broke through the German front lines, liberating large areas of Belgium. This defeat, forced the Germans to agree to an armistice, signed on 11 Nov, 1918. The Germans withdrew from Belgium, the Flemish government collapsed, and King Albert returned as the Belgian Government was restored.
Stamps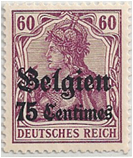 ALBUM
The Germans issued stamps for use in occupied Belgium on 1 October, 1914. They were overprinted German Stamps of 1906-1918. Two sets of surcharges/overprints were issued. The first set spelled out the full denomination "Centimes" and "Franc" for the smaller denominations. The second surcharge/overprint abbreviated the denomination "Cent." and "F.". These stamps continued to be in use throughout the war and were used concurrently with the stamps of the German Western Military Command from 1916. As a note, the Belgian Government moved to Le Havre, France on 13 October, 1914 and continued to print stamps for use in unoccupied Belgium.
Banknotes
The Société Génerale de Belgique issued paper money in the German occupied areas between 1915 and 1918 in denominations of 1, 2, 5, 20, 100 and 1000 francs.
Links
The Western Front
German Occupations of the Belgium at the Belgian Philately site
German Occupation of Belgium at Stamp Collecting World