ALBUM – view my Japanese Offices in Korea album
Fast Facts
Region: Far East
Group: Korea Area
Classification: Post Offices in a Foreign Nation
Prior Regime: N/A
Key Dates:
1876 – Japan opens its first post office in Pusan
1897, Oct 12 – Empire of Korea declared
1900, Jan 1 – Japanese began overprinting Japanese stamps (朝 鮮) for use in Korea.
1905, Nov 17 – Japan established Korea as a protectorate.
1910, Aug 29 – Japan annexes Korea
Following Regime: N/A
Scott Catalogue: (Japan, Offices in Korea) 1-15
Pick Catalogue: N/A
History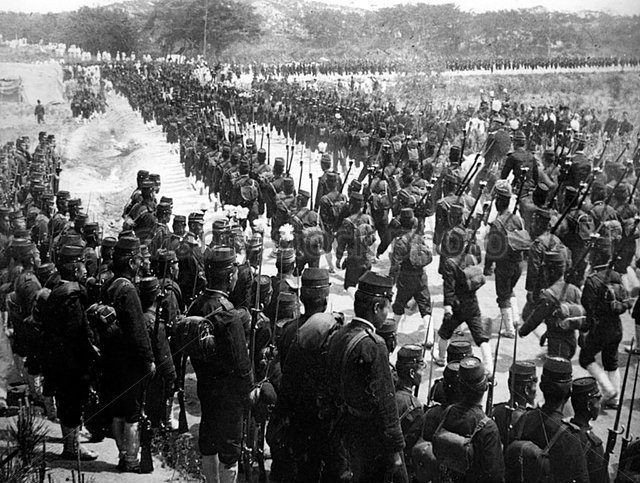 In the mid 1800's, Western powers began to exert imperialistic influence in Asia. For the Japanese, this became a reality when the United States sent gunboats to Japan. The "black ships", commanded by Commodore Matthew Perry, sailed into Tokyo harbor and forced the Japanese to open its ports to the western world in 1854. Humiliated and concerned about losing their sovereignty, the Japanese began to flex their own imperial muscles in Asia.
Looking to their nearest neighbor, Japan took advantage of political instability in Korea, forcing them to sign the Japan–Korea Treaty of 1876, requiring Korea to separate itself from influence in China, and giving Japan many extraterritorial rights, including postal authority. As Japan continued to expand their influence and control in Korea ultimately brought them into conflict with China. The Sino-Japanese war broke out in 1894, and the Japanese easily defeated the Chinese Qing Dynasty, compelling them to acknowledge the independence of Korea and release all Korean territory. Shortly afterwards, the Japanese arranged the assassination of the Korean Queen Min, who resisted Japanese influence, and in 1897, renamed the nation as the "Empire of Korea."
The increased influence in the region, brought Japan into direct conflict with an expanding Russian Empire, resulting in the Russo-Japanese War of 1904-1905. To the world's surprise, the Japanese soundly defeated the Russians both on land and at sea. With the elimination of Russian influence on the Korean peninsula, the Japanese declared Korea to be a protectorate, formalizing Japanese control. Five years later, Japan annexed Korea to become part of Japan on August 22, 1910.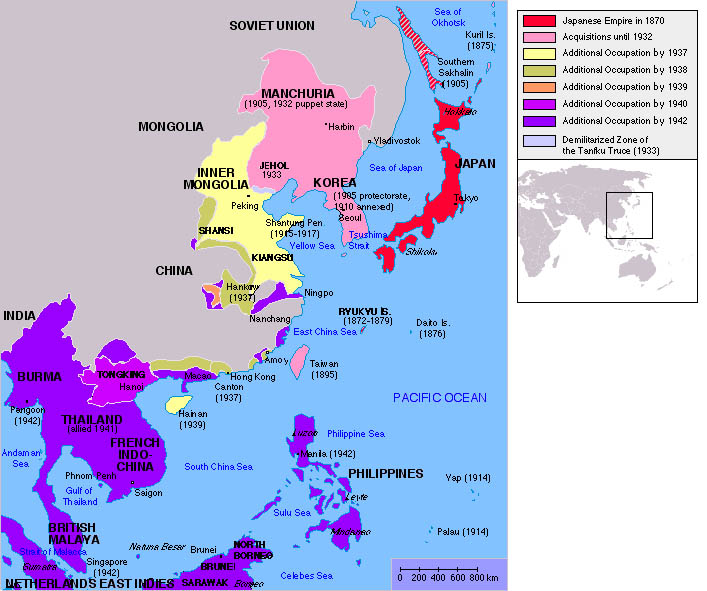 Stamps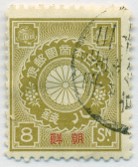 ALBUM
Japan opened its first post office in the port city of Busan, Korea in 1876. Since the Empire of Korea was unable to establish a working postal system until 1895, additional Japanese offices were opened in major cities across Korea over the next 25 years.
Initially, these post offices used stamps of Japan; however, in 1900, Japanese stamps were overprinted (朝 鮮), the kanji for Korea. Fourteen Japanese definitive stamps were overprinted, as well as one stamp commemorating the wedding of Crown Prince Yoshihito and Princess Sadako.
Following the Russo-Japanese War, Japan annexed Korea in 1905, and the fledgling Korean postal system was replaced by the Japanese system in 1910. Japanese postal stamps continued to be used in Korea until after the end of WW2, where Korea gained its independence from Japan.
Banknotes
Not Applicable
Links
Korea at Asia for Educators
Japanese Expansionism in Asia and Dokdo Island
Japanese Post Offices in Korea at Wikipedia