ALBUM – view my Kingdom of Hejaz album
TRANSITION CHART – Arabian Peninsula Transition Chart
Fast Facts
Region: Middle East
Group: Arabian Peninsula
Classification: Kingdom
Prior Regime: Ottoman Empire
Key Dates:
1916, Jun 5 – Great Arab revolt against the Ottomans
1916, Jun 27 -The Arab state of Hejaz proclaimed
1924, Mar 3 – Hussein declared himself the King of Hejaz
1925, Dec 19 – House of Saud, rulers of Nejd conquered Hejaz
Following Regime: Nejd Administration of Hejaz
Scott Catalogue: (Saudi Arabia) # L1-L186, LJ1-LJ55
Pick Catalogue: (Hejaz) #1-6
History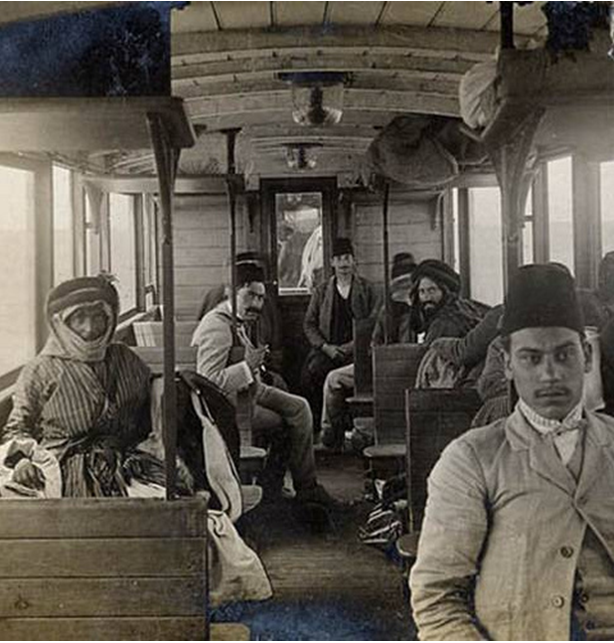 Hejaz, in the western part of Arabia, came under Ottoman influence in 1517 and the Turks took direct control in 1845. Between 1900 and 1908 a railway was built between Medina and Damascus known as the Hejaz Railway.
During World War I, the Grand Sherif of Mecca, Sayyid Hussein bin Ali who was originally allied with the Ottomans and Germany, began secretly negotiating with the British about creating an Arabian kingdom. After protracted negotiations, Hussein grew impatient and started what would become known as The Great Arab Revolt against Ottoman control in 1916.
On 27 June, 1916, Hussein proclaimed an Arab state, and ultimately proclaimed himself the King of Hejaz. Following World War I, the Arabs found themselves freed from centuries of Ottoman Sultanate rule, but under the mandate colonial rule of France and the United Kingdom. As these mandates ended, the sons of Hussein were made the kings of Transjordan (later Jordan), Syria and Iraq. However, the monarchy in Syria was short-lived, and consequently Hussein's son (Faisal) instead presided over the newly-established Iraq.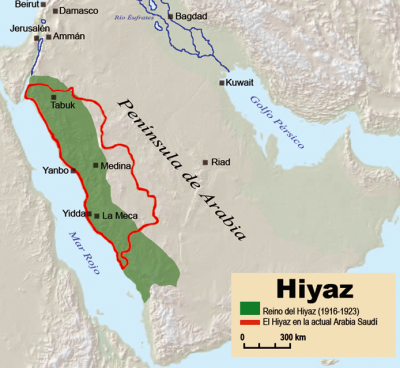 When Hussein declared himself King of the Hejaz, he also declared himself King of all Arabs (malik bilad-al-Arab). This aggravated his conflict with a rival, Ibn Saud (leader of neighboring Nejd). Two days after the Turkish Caliphate was abolished on 3 March, 1924, Hussein declared himself Caliph. This claim was not accepted by Saud, and Hussein was attacked and driven out of Arabia by the Nejdi. Hejaz was annexed into the Sultanate of Nejd in 1925, and formed what would eventually be know as Saudi Arabia in 1932.
Stamps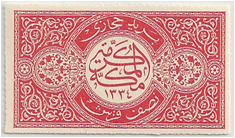 ALBUM
The first stamps of Hejaz were issued in 1916, a set of three values. One was a ¼-piastre stamp showing the carved door panels of the al-Salih Tala'i mosque in Cairo, the second was the ½-piastre stamp, its central design taken from a page of a Koran in the mosque of Sultan Barquq in Cairo and the third was a 1-piastre stamp depicting details of an ancient prayer niche in the al-Amri mosque at Qus in Upper Egypt.
The same designs with additional inscriptions were included in a 1917-18 series, with all values being inscribed "Hejaz Postage". The new designs included a ⅛ piastre stamp with a Koranic passage as the central vignette with a background from a stone carving on the entrance arch to the Ministry of Waqfs, and a 2 piastre stamp a central design adapted from the first page of a Koran of the Mamluk Sultan Faraj.
In 1922-24, Hussain also produced a long series of stamps showing his arms as the Sharif of Mecca. The first of these, which celebrating the succession of Hussain's son on Oct 4,1924, includes several types of stamps issued from Jiddah in 1925 and inscribed with overprints recording the accession of 'Ali. A These stamps include a complex variety of overprints and surcharges in gold, red, blue and black.
In May-June 1925, Ali issued his own stamps, bearing his name and title, in addition a series of 27 regular-issue varieties, most inscribed with overprints, except one of the 10-piastre types. Altogether, according to Scott's Standard Postage Stamp Catalogue, there are 300 major varieties of these.
Hejaz also issued several series of postage due stamps with various inscriptions.
Banknotes
A set of six banknotes were issued for the Kingdom of Hejaz in 1924. The denominations of the note were: 1/2, 1, 5, 10, 50, and 100 pounds.
Links
Map from Sandafayre On Line Atlas
Stamps and the History of Hijez (from Saudi Aramco World)
First Hejaz Stamps Designed by T.E. Lawrence (aka Lawrence of Arabia)
E.L Angeloglou, Dean of Cairo Stamp Dealers (many of my stamps bear his mark)